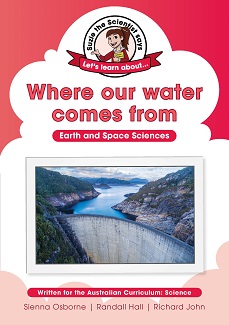 Suzie the Scientist - Where our water comes from
Price: $6.49 (Includes GST & Postage)
Suggested Reading Level: PM 21-24; Fountas and Pinnell L-O
In this book Suzie the Scientist helps us learn about where our water comes from.
We learn that people in Australia get their water from a range of different sources depending on where they live. Suzie also shows us how we get water from unusual places such as the sea and from underground.
This book addresses the learning outcome "Earth's resources are used in a variety of ways" from the Earth and Space Sciences sub-strand of the Australian Curriculum: Science.
For more information visit Suzie the Scientist Website .
ISBN: 978-0-9924582-8-7